Palazzo – Luxury Beds, Beds, and More Beds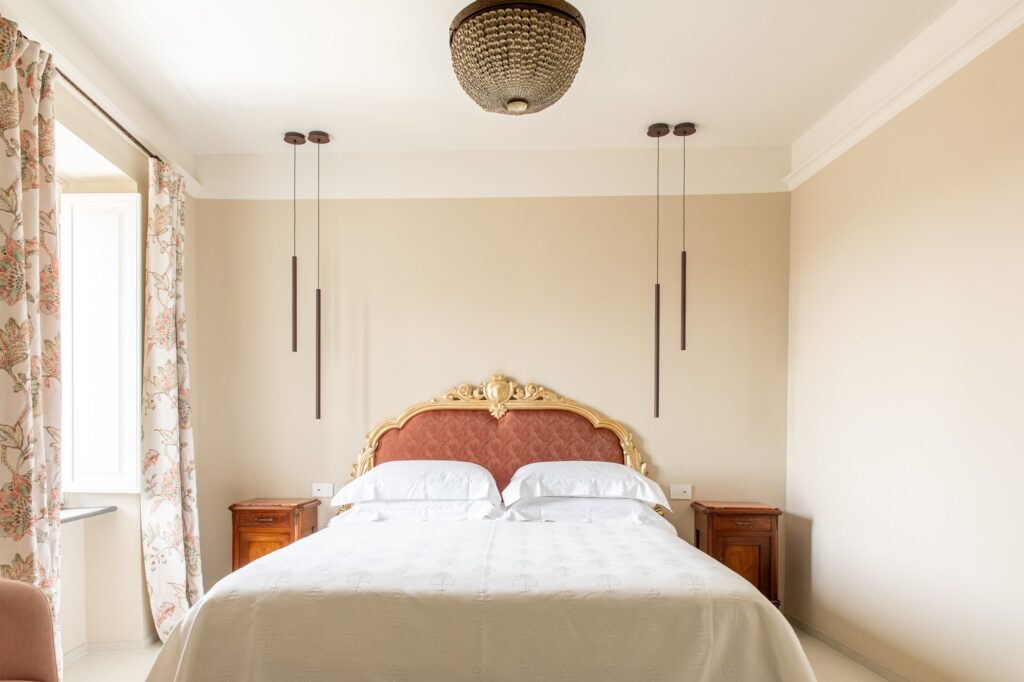 Beds are important to me. We sleep in an antique bed with panels for silk fabrics, and many levels of cushioning and linens and duvets. I am the Princess indeed! We also recreate the luxury and quality of our own beds in each of the Palazzo luxury residences.
Growing up, my aunt was fastidious about all the components of a bed. I learned about double mattress padding, mattress sacks, high quality sheets, "toppers", duvets, duvet covers, and much more.
When I moved to Italy, I learned about the Italian side of bedding, hand embroidered linen sheets, with initials or family crests or other insignia. In Italy, the "copriletto", or bedspread, is never used as a layering source for heat in the cooler months. Instead, the copriletto, or bedspread, is removed each night. Often the copriletto is made of a prestigious fabric like silk which cannot be washed in the washing machine, only drycleaned.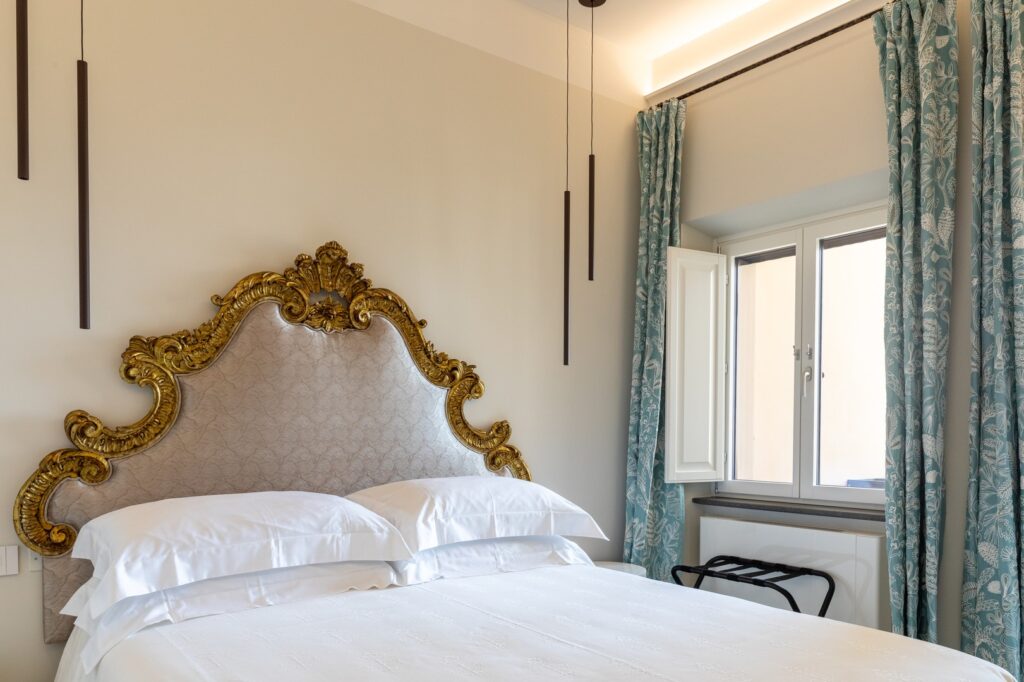 Of course, Covid has changed many aspects of bedding. For example, many people have stopped using copriletti altogether – this is especially true of hotels or homes with frequent guests.
Throw pillows on the bed are similarly less frequently used these days since the bed is considered such an intimate and personal space. The idea of lying down and touching a bedspread or throw pillow which quite obviously cannot be put in the washing machine, and which perhaps God Knows Who laid naked against…is very off putting!
So, no dryclean-only bedspreads and no throw pillows in our luxury residences.
Let's dissect from the ground up how we construct our beds and bedding.
The wooden bed structure itself which lies under the box springs is hand made in Orvieto. We chose decorative legs to fit in the style of our Renaissance era palazzo.
On top of the wood structure lies the box springs and above that the mattress..
A word about mattresses in Italy – they are much less expensive than in the USA. In Italy, the measurements are in cm, so for example the closest thing you'll find to a king is 180cm wide and 200 cm long. You can fairly easily get custom sized mattresses, but be aware that that also means having custom sized sheets made. Not to worry, this is Italy, and artisans still exist. In my experience, custom sheets are not even very difficult or time consuming to acquire.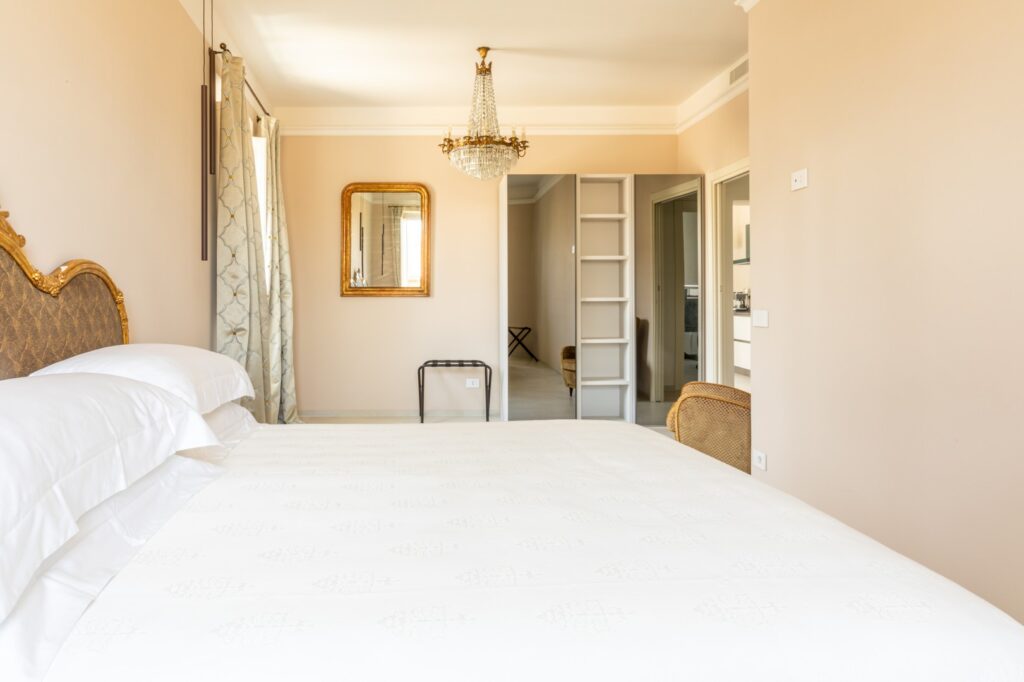 Italian mattresses have fun names like "castle bed", "french bed", and "one and a half". None of these are what you might imagine! A castle bed might conjure ideas of grand baldacchino canopy beds – but in fact is simply a bunk bed. "A one and a half" bed makes one wonder….why? It's simply slightly wider than a standard single, which is 80cm or precisely 1.5 times as wide, so 120 cm. A French bed is a little wider yet. Why French? You may not want to know!
At Palazzo Misciattelli we offer mostly king beds and one room that has queen size beds.
Now, we get to mattress pads. We double mattress pad all of our mattresses. The first layer of cushioned mattress pad is actually a fully zipped sack that the mattress fits into – it is waterproof and insect-proof (important when you have world travelers). No mites of any kind can get in! Even five star luxury hotels need to be attuned to this.
The second cushioned mattress cover is not a sack, it fits on the mattress like a bottom sheet with curved elastic corners. It's also waterproof, so in the event of an undesired liquid spill, usually this mattress cover will contain it and can easily be removed and washed (unlike the first level underneath which is a sack and more difficult to remove.)
Our mattress covers are tested so they don't make noise. That's the last thing you want when you're exhausted from traveling and touring – to roll over and hear loud crinkling noises.
Above the mattress covers rest our luxury Egyptian cotton sheets, sewn and embroidered in Orvieto, Umbria. They are so heavenly soft and rich, perched atop those cushioned mattress pads, that they conjure up the princess and the pea!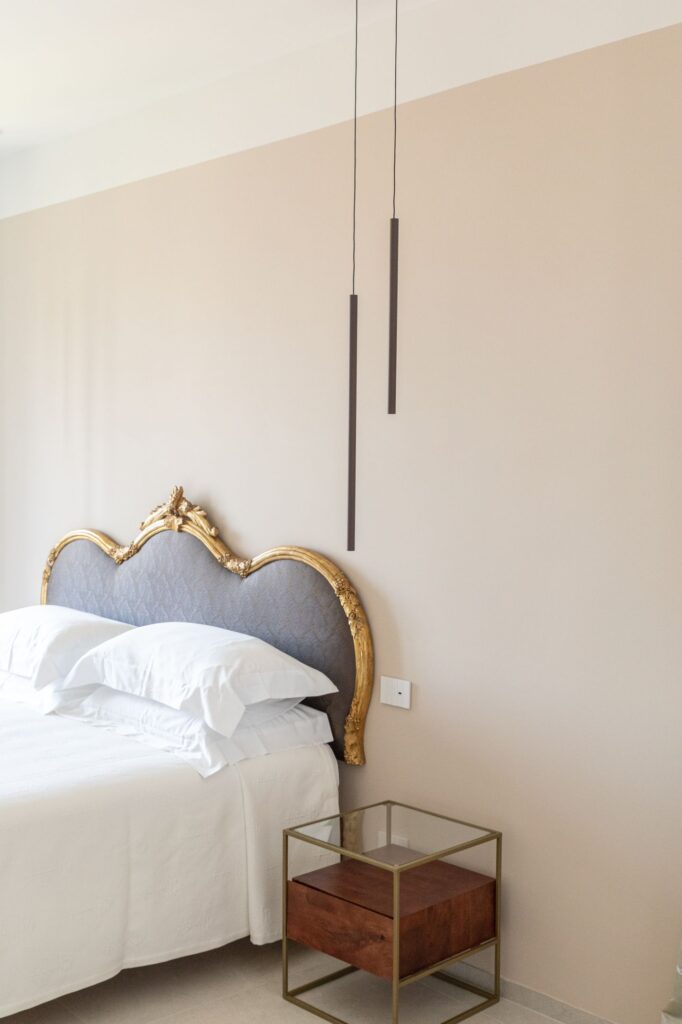 We are talking bottom sheet and top sheet. I specify this because on top of the top sheet we have a duvet cover (also in the same delicious Egyptian cotton), into which lies a season-appropriate down duvet.
Some luxury hotels have just a duvet cover (with down duvet inside) on top of the bottom sheet, but my problem with this is sometimes you are too hot with the duvet on top, and all you want is the top sheet.
On top of the duvet cover we have copriletti – but not the old fashioned dryclean kind. Our copriletti (bedspreads) are 100% cotton and machine washable, from CC Milano. They are stunningly gorgeous and really finish the bed's look. We wash these after each guest.
Every bed in the palazzo has its own gorgeous antique headboards. Some of our furniture are family antiques, and sometimes we hunt in antique stores and auctions for the exact right look for the palazzo. Generally these are gilded sculpted wood designs from the 1700's or 1800's
Check out our instagram video where we describe our luxury bedding at the palazzo!
https://www.instagram.com/reel/Cu3uawINMXA/?igshid=MzRlODBiNWFlZA%3D%3D