Parking and Getting Around in Orvieto, Umbria
Palazzo Misciattelli is positioned in the centro storico, or historic center, of the ancient city of Orvieto. It has been a family residence for generations, and now also is a boutique lodging option for travelers. We also live in the Palazzo, on the "piano nobile", or historically aristocratic floor one level up from the piazza.
When our guests ask us how best to arrive, where to park, and how to get around, we make the experience as easy as possible for them. They ask us about Uber and taxis. Uber and taxis are words that transport me mentally hundreds and thousands of miles away to cities and towns where Uber and taxis are a regular part of life. Not so for Orvieto!
Here's why.
The Ancient City of Orvieto
photo credit: Marián Moravčík/ig:navaja_mm
Orvieto is a hill town, but better said it's a giant oval-shaped mass of volcanic rock that in historic times served as the natural base for a fortress.
Orvieto is the high town on the hill, the pretty part with all the adorable cobblestone streets and restaurants and historic sites.
It is a delight and a joy to walk around the high town of Orvieto – most walks between sites, restaurants, bars, and shops are about a 5 minute walk. There are many pedestrian only areas, especially most of the Corso and the Via del Duomo. Our guests adore the freedom of being able to do everything on foot, from shopping, dining, browsing, and relaxing in cafes.
Orvieto Scalo, on the other hand, is the low part town, near the train station, mostly modern, not very interesting. If you are arriving by train or by car, you will likely pass through Orvieto Scalo, the low town, to get up to Orvieto, the high town. To drive between the high town and the low town, it takes just under 10 minutes. 
If you are arriving by train
If you are staying at Palazzo Misciattelli, we come pick you up at the Orvieto train station at any hour!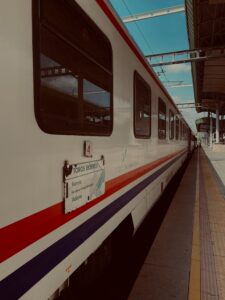 image credit: İNZİLE DAL
If you are staying somewhere else in Orvieto or daytripping via train: if you're lucky and during daytime hours, you might catch a bus to take you up to the high town. If you're even luckier you might catch one of the 4 taxis which operate in the area (not making this up!). If you arrive after 8pm, you are out of luck! Taxi drivers are eating dinner at that hour and do not care if you need a ride from the station up to the high town. Again, we pick our guests up at any hour, but not everyone is so fortunate!
There is a cool funicular train that runs from the station to the high town, but it closes at 830pm. We have even encountered some travelers who tried to walk the long, windy road up to the high town after dark. This is not recommended as it is very long to walk, there is no sidewalk and can be unsafe. It's advisable to plan ahead here if you are not staying at Palazzo Misciattelli!
If instead, you are arriving by car
If you are driving in and staying overnight at Palazzo Misciattelli, you can easily drive directly to our doorstep. Or, we will meet you just outside the maze of narrow one-way streets. Then we either park your car for you or guide you directly to the Palazzo. As you prefer.
Most visitors will not need to drive in Orvieto. We have heard a lot of comments from visitors – "the streets are so narrow!" "I get lost driving on all these one-way streets!".
So whether you are daytripping to Orvieto or staying overnight, we recommend you park your car as soon as you can.
If you are driving in just for the day, you can park at the Orvieto Scalo train station lot, and take the funicular up to the high town.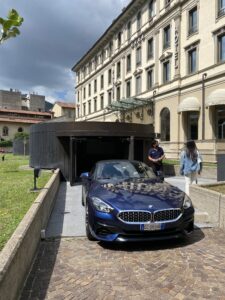 Moving around once you are in the high town
From Palazzo Misciattelli, most sights and restaurants are within a 5-8 minute walk.
Walking is the most lovely option! As of this writing, Uber does not exist in Orvieto.
Taxis – there are just 4 of them in Orvieto – are very few and far between. But more important than that, you just don't need a car because it's a hassle. And you don't want a car, because it's such a freedom to not need a car – to wander down the street for a coffee, then stop by a shop to see the latest fashions, then pop into the pharmacy for some designer toothpaste (what? yes…).
In sum, when you are a guest at Palazzo Misciattelli we make your arrival via train or car seamless. Otherwise, try to park as soon as possible on the edge of town and then enjoy everything about being car-free for a few days!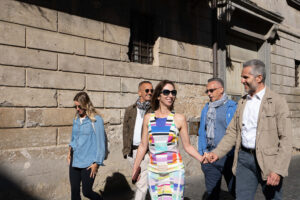 A word about Google
Don't trust google maps or other apps for driving. There are many uncoded obstacles in Google – roads that seem open all day but actually are very restricted to just a few hours, with video cameras that ticket you. Again – don't try to drive in the historic center. Park on the edge of town and enjoy the short walks between points.
A fun old map
We have this map from the 1600's hanging in the Palazzo. The streets have not changed! They are just as tight and narrow and windy now as they were 400 years ago. Fortunately they are mostly very flat with few hills once you've arrived by car to the top. The best way to enjoy our windy narrow streets is on foot – a true delight and an easy one.